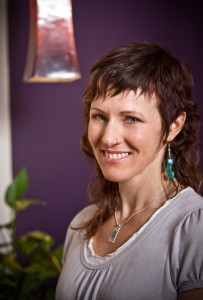 Karen Schneider RMT
Karen has been a Registered Massage Therapist in BC since 2008, and opened Bodylogic Therapeutic Massage in June 2011. Karen practices a wide variety of techniques, but leans towards myofascial/deep tissue work where she combines anatomical knowledge with intuitive touch and respect for clients' different comfort thresholds, to offer treatments with lasting effect.
She is expanding her use of alternative modalities such as cranio-sacral therapy to address a broad range of dysfunction with treatments tailored to each client.  Karen is motivated to help you resolve chronic pain issues as well as manage acute and sub-acute injuries to encourage the best possible healing outcome.
When not at work, Karen is out enjoying the mountains and people of Revelstoke, skiing, snowboarding, climbing, and hiking.

View Karen's schedule and book online here!